A knowledge base supports both customers and agents. It has several uses, but is usually where information is organised and processed, shared and searched.
The variety of knowledge bases is much greater than the basic FAQs, but it is an essential component – posts, troubleshooting suggestions, tutorials, useful alarms and much more.
Knowledge bases may be internal, external or a mixture of both. However, there is a significant distinction: customers should use an external knowledge base because an internal knowledge base is an optimal way managers and employees within an organisation share information and collaborate on ventures. They are typically programmed to be edited and added to the knowledge base.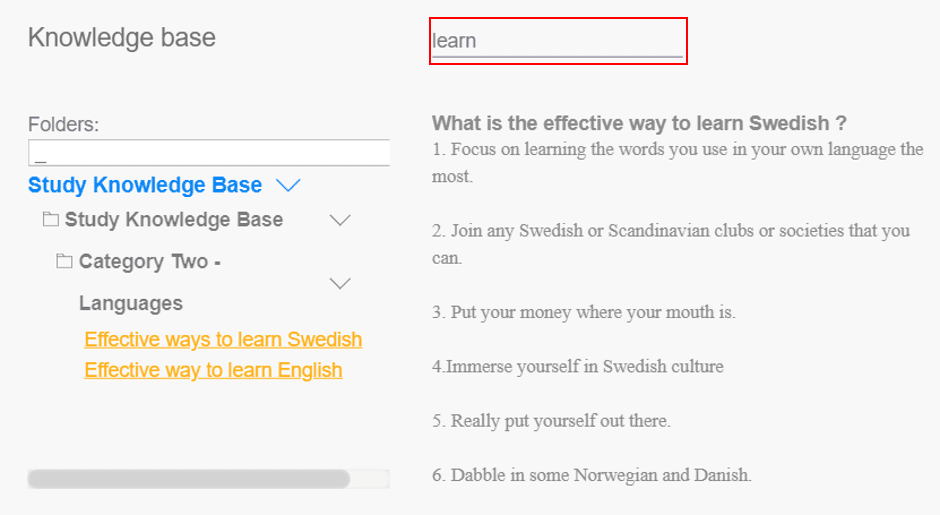 Finding answer
Cention Knowledge bases are split into sections: questions groups (and sub-categories) and questions not belonging to either group. To see the answer on the right in the browser, click on a query in the tree structure.
It may be challenging to get the answer you are searching for if the information base includes many categories. 
Therefore, agents are able to simply type what you are searching for in the search field at the top instead of navigating through the tree structure to find the answer. Only type the keyword in the question/answer and all matches in the tree structure will be shown.

Suggest a new question to the knowledge base
If you have a question in Errand Handling, which you think would be nice to include in a FAQ, then you should put the question to the knowledge base community. For a comment, tick "Suggest library".
Write the response and press "Submit." The errand would then be returned to the client who sent the question, and the "Intelligence base laundry". The manager would then open the errand, make any appropriate adjustments to the question and answer before posting it in a suitable FAQ.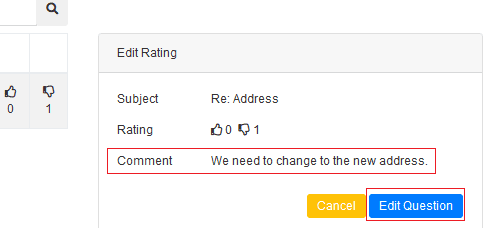 Ratings
When using the knowledge base, agents will rate and leave a message. These are seen in Knowledgebase administration.
Benefits of Knowledge base
Improves agent Productivity
One of the major quality barriers in the customer service sector is the time it takes a support person to find answers. In reality, they spend 20% of their time checking their inbox and other channels like Slack or asking colleagues. By creating a centralised information centre for your staff, you can dramatically reduce time finding answers. Instead, you should concentrate on inspiring agents at their best.
Keeping knowledge base alive
When goods and services evolve, so does the employee and customer information. If you ignore your content, it is useless for anyone. Therefore, you must update your content weekly. You will be able to change, delete and publish new customer solution papers in one structured framework with a knowledge base programme.
Encourages Employee Engagement and Collaboration
Regardless of whether you have a devoted knowledge base team or a team of committed support staff, content production should not be a one-man task. It is important to work together to produce the right material for your needs internally.
For example, the use of an internal knowledge base for your business will improve employee involvement through unleashing new concepts that will help the whole business (solving a complicated interface issue with steps and screenshots) to simplify the experience for everyone.
Smoother Employee Onboarding
Onboarding may be pricey. But with an up-to-date knowledge base, you will be able incorporate this in your new recruit training program. By utilizing knowledge-based tools, it allows them to obtain hands-on familiarity with the company's internal and external materials, as well as to find a list of FAQs and typical problems resulting from customer support interactions.
Customer Information Resource
An external knowledge base can do more than just assist and support – it can provide the customers with a rich repository of information. With user guides, how-to posts and FAQs, consumers can quickly see the website as a valuable reference, giving them reason to visit often.
This is great for customer care and will also help you develop your authority and boost customer loyalty as a specialist in your profession. Customers will rapidly and conveniently locate the details they need which is helpful to them which allows them to reduce complaints.
This is also an excellent opportunity to educate your clients about new products and services and any changes or enhancements on your existing products and services.
Easy to Manage and Grow
Finally, a knowledge base is simple to reach and utilise, whether internal , external, or a mix of both. Most people are used to the internet, so browsing is easy and specialised software is not required when the material has to be changed.
Since businesses and practises are evolving with time, it can be painful to make sure everybody has access to the new edition of a significant document. Rather than submit emails to all workers and hope that they read and file the material, simply download the records electronically and it is available to everyone immediately.
It is therefore simpler to locate information on the basis of the fact that each report or document may be tagged in a field or folder for searching. And as the business expands and evolves, you will build and expand your knowledge base.
Knowledge bases will be a powerful resource for both small and big businesses. They make it easier for consumers and workers to exchange knowledge and can help lower expenses while enhancing quality and operation.
They can also function as a memory backup, an interactive staff training platform and a conversion machine to increase traffic to the website.
Click the link below to request a Demo: